Referrals
Referral rewards
We provide incentives to those who submit a good candidate who is not already in our database. Once the referred candidate has worked with us for a period of time, the referrer is eligible to redeem a $50 gift card for their contribution!
Anyone can use the CTC website to refer a friend, work colleague or someone who is out of work or looking for work, and you know that they have a great attitude for work. We are looking for competent, safety focused staff for roles in all areas in either blue or white collar roles throughout Australia. If you think you know of such a candidate you can refer them using the button above.
CTC referral cards
We provide special business cards for all employees working for CTC. They feature our contact information, and a space for candidates to write their name and give the card to someone they wish to refer who would make a great employee for our labour hire business or a permanent position that we have.
Referral from current employees and candidates is valuable. They understand our organisation and company culture, and can sense whether someone would be a good fit.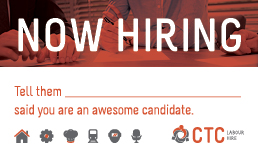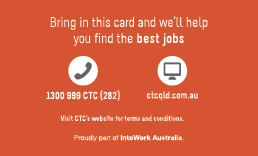 Our candidates take these cards wherever they go, so they are able to give them to friends, acquaintances, or anyone they see doing a great job. This is a convenient way to make a recommendation, as these cards may be given out easily at a BBQ, shop, restaurant, or even a drive through window.
Wish to make a referral or have been referred by someone?
If you wish to refer someone, or if you have been referred by someone, fill out the form at the top of this page.
The rules are:
Please don't refer yourself. If you wish to apply for work with CTC, visit our register page, or see our available jobs.
Please let the person you are referring to CTC know that we may contact them to avoid any confusion.
Any candidate already registered on our database is not eligible for referral under this promotion. Only one promotional offer is permitted per candidate, determined by the date and time of submission when the form below is submitted. Eligibility will be assessed as soon as the referee is contacted. Please be patient – we receive lots of referrals!
Bonuses will be paid only if the candidate is available to attend a meeting within 30 days and is subsequently hired by us within six months.
CTC reserves the right to change or modify the Referral Program at any stage without notice.
The fine print:
We will issue a gift card to the value of $50 to you after the person has held a position with CTC for a minimum of 160 hours.
After every 6 consecutive months of full time hours with CTC we will issue another gift card to the value of $50 on an indefinite basis.