Recruitment program crafting
Recruitment program crafting
Program crafting is designed to find where our customers are having challenges within the recruitment process and where we can come in and help with this process. Our business is dedicated by working in a partnership arrangement with our customers to ensure that we provide a service that helps their business so they can focus on winning and executing their requirements for clients. By crafting a dedicated customised employment solution we are confident that this will allow our customers to focus on their business and increase productivity in the areas that they need to concentrate on. With this at the top of our minds, we can then focus on new candidates that will assist with business needs.
Below are some of the customisable processes that we have to offer. Our Business Development team will work with our recruitment managers to take customer requirements into account so we can then turn this into a set of outcomes that will be suitable to meet their needs.
The client brief is the most crucial part of the recruitment process, as we need to understand your business requirements as well as your cultural fit. Our placements are exactly what you, your business and your team need to be at the peak of your performance without wasting time with the wrong recruitment placement.
We can do as much or as little as our customers would like from the number of service offerings below. You can pick one part, a couple of segments or the whole process. If you would like to get a quote please click "Labour Hire Request" so that we can give you the service offering you want.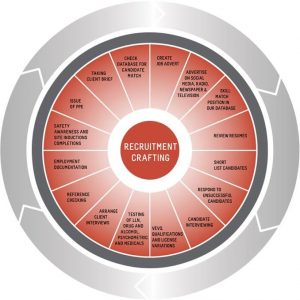 Check database for candidate match
We ask a series of questions that matches our integrated resume and skills management system database. This gives us the opportunity to undertake a search of our database accessing all the resumes and skill sets that will meet your criteria and provide us with a ranking system. This ranges from a perfect skills match to as little as one skill being matched. If our recruitment team feels like they have a match, they will progress without the need to advertise. If they feel that they need to go to market, then we have the information from the client brief.
Create job advert
If we need to write an advertisement, we have the skills with our in-house recruitment team that utilise the 30 years of experience in creating the perfect copy. This will ensure the right candidate will reply and fill your position. Attracting the right candidates is part of our DNA and the lifeblood of our success in recruiting the perfect candidate that matches your requirements.
Advertise on social media, radio, newspaper and television
Advertising on portals including new and old media is crucial to gaining the right candidate to fill the role you need which matches all your requirements in a specific time-frame. Being a national employment business we have access to the very best of breed technological platforms that we can leverage so you get the best candidate to fit the role you are looking to fill.
Using new types of media also requires a different way to speak, search and place the advert to attract the right candidate. You can waste a lot of time and money if you do not possess these skill sets.
Review resumes
After completing our resume and skills management system database search, we now have a list of matched candidates with the right skills that you require. We then start the process of studying the resumes that our system has identified as the best in our system to meet your needs.
Short list candidates
Short listing candidates is one of the most time consuming parts of our process as this is where we need to ensure that all requirements are met. We ensure that the resume matches the skills criteria and we also check other investigation techniques at our disposal.
We also call the candidate to ensure soft skills are met, as this is very important when looking for client facing or management staff. If the candidate is successful, we will book them in for a thorough interview face-to-face or via Skype.
Respond to unsuccessful candidates
We have found that this is a very important step that a lot of recruitment companies and businesses forget about. If this part of the process is left out, it reflects poorly on your brand and ours with the possibility of losing possible clients and customers in the future when this link in the process chain is not completed.
Skill match position in our database
After completing our resume we turn to our skills management system database to ensure that we have all the stated skills certificates or licenses documentation listed to match your requirements.
Reference checking
The best way to verify your candidate's soft skills and experience is by checking with previous employers. Directing and evaluating soft skills over the phone takes years of experience to ensure that you have the answers that you need to match and suit your organisation. With over 30 years' experience, IntoWork provides accurate feedback ensuring that we place the right person. We also ensure that we ask the right and difficult questions, to uncover any reservations that references may have.
Candidate interviewing
We have years of experience interviewing and accurately assessing your candidates. We can consult with you over interview questions, ensuring we conduct an interview that meets your individual needs.
VEVO, qualifications and license variations
We have access to government systems so we can check for Visa requirements, qualifications and license checking. This ensures that we have the right candidates that are eligible to work in your business to avoid exposing you to any government audit.
Testing of LLN, drug and alcohol, psychometric and medicals
We undertake a vast array of testing if required to ensure that the staff that you hire from IntoWork are right fit for you that will make your business the best it can be. This also provides a level of comfort to your business from a WHS and compliance viewpoint and provides you with everything you require, avoiding any issues when a compliance officer comes up to you on-site and asks for all this information. You simply log on to IntoWork's employer website and provide all this information, giving you more time to carry on with business and get the job done.
Arrange client interviews if required
We will arrange client interviews if required at your request. With labour hire, this is sometimes not possible, depending on the urgency. We recommend that you interview possible candidates for longer-term positions or for a permanent role.
Employment documentation
We ensure that all employee documentation is up to date and relevant to fulfil all your legal requirements on a casual, contract or permanent basis of employment. Items collected include proof of identification, residency, bank, tax and superannuation details and VISA requirements.
Safety awareness and site inductions completions
All IntoWork candidates have mandatory requirements to undertake our safety inductions. This is to ensure that all site inductions are completed prior to commencement. This is all documented in our system to ensure compliance while on the job.
Issuing of Personnel Protection Equipment (PPE)
All IntoWork candidates are issued with basic PPE. We can also provide specialised PPE if your company or work sites have specific requirements to gain access to these sites.