Thanks for the memories!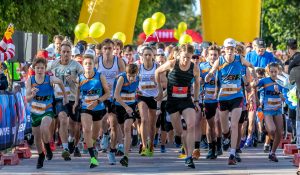 After three successful years of organising and growing Rockhampton's hugely successful community fundraising event, the Rocky River Run, CTC has passed over management of the annual event to the Rockhampton Regional Council.
The Rocky River Run was first established in 2007 by the Rockhampton Rotary Club and has become an annual feature of Rockhampton since establishment, raising funds to support mental health and the prevention of youth suicide.
The enormous level of community support has allowed the event to grow substantially over the years and in 2015 CTC became the primary organisers of one of the region's largest events. Year on year growth of the event has seen runner attendance upwards of 2,100 people in 2018, becoming a great regional tourist attraction and major contributor in funding local community groups and driving awareness within the region.
Visitor growth within the region has resulted from the success of the event, and the overall presence of Rockhampton as a family friendly tourism destination drawcard has been a key feature, along with highlighting the growing importance and awareness of physical and mental wellbeing by participating in exercise.
CTC's General Manager Darryl Lapworth stated that "The recent success can be attributed to the CBD shift which incorporated a central feel to the event and made it more accessible for families and supporters to come along to soak up the atmosphere and the vibes that Rockhampton has to offer. CTC is proud to have been a driving force in growing the profile of the event, and we look forward to working with Council to continue this growth".
"On behalf of CTC, I'd like to extend our thanks to all of the past participants, supporters, charities and sponsors over the journey. We're especially touched, knowing that the support we have provided to charities like Ronald McDonald House and RUOK? Have had a direct impact on the communities where CTC works each and every day."
The Rockhampton Regional Council have been great supporters of the event in the past and we wish them all the best for the future; We trust that the Council will continue to aim for a long term focus on brand building towards the area promoting the Rocky River Run brand, the Rockhampton region and also the sponsors and charities aligned with the event.