What's next for the 2016 CTC Rocky River Run Ambassador
"I would like to thank everyone for giving me the honour of being the first Ambassador for the CTC Rocky River Run. I believe CTC will take on all feedback to make it into a bigger and very successful event in 2017."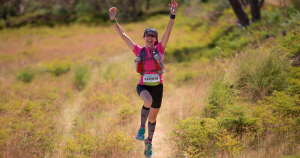 Kathryn is now slowly recovering from the National Championships held on the Gold Coast with the course starting at Burleigh Heads through to North Kirra. Kathryn says she sincerely appreciates the CTC Rocky River Run's assistance in helping her participate in this event which turned out to be a great race experience.
Kathryn states that she has learnt many things from these events including:
• Always study the course and plan accordingly. The hill at Currumbin turns into a mountain after four times;
• No road closures and footpath running around pedestrians on a Saturday morning was a challenge;
• Crossing a main highway that's not marshalled while fatigued…. she has no words for that one!
On her watch, Kathryn covered 102km. Unfortunately she dropped out of the top 10 runners after the 70km mark due to some cramps which was disappointing but she still crossed the finishing line in 11th position out of 30 competitors with a smile on her face and was recognised for her performance by the national selectors.
Overall Kathryn came 3rd in the Female National Championships for the 100km and will receive a National Australian Ultra Running Association 100km award.
Due to not meeting the qualifying time, Kathryn will now have to run in another event if she wishes to be considered for next year's 2017 national teams.
For now, it's recovery time and then she will go into some tough training for the September GNW100 mile event in NSW. It's a qualifying event for the UTMB (Ultra World Trail Tour event du Mount-Blanc 170km) which she hopes to participate in.
We wish you all the very best Kathryn, and thank you for your participation in the 2016 CTC Rocky River Run.
Want to keep up to date with what Kathryn Austin is up to? Follow her blog 'Kathryn's Running Tales.'